Wheeling.Com is not
affiliated with the
Village of Wheeling


Please note: information presented may be outdated.
SUPPORT SERVICES
You're RIGHT here in WHEELING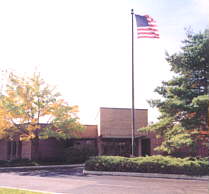 The Village of Wheeling employs 56 full-time police officers and 41 full-time firefighters, reachable for emergencies via an enhanced 911 System. Together, our accredited Police Department and Fire Department present a strong, positive presence. They interact with schools and neighborhoods in Drug Abuse Resistance Education (DARE) and Neighborhood Watch. The Gatekeeper Program is yet another service in which our police work with Pavilion Senior Center, assisting vulnerable elderly and/or disabled persons. The Senior Center was constructed by the Village and provides year-round activities for the senior residents of the community.

The Fire Department, operating out of two strategically located stations, conducts home fire hazard inspections for residences and places of business. Within the last year, the Village Fire Protection Rating was upgraded to Class 3, an improved status which reflects noticeable savings in fire insurance premiums. In an ongoing safety program, fire department personnel are available to schools and organizations for presentations, increasing public awareness in dealing with fire, life and medical emergencies.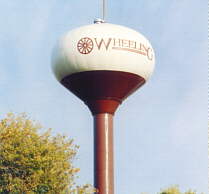 The care and maintenance of Wheeling's infrastructure is directed by a professional management team. Our water system; storm and sanitary sewers; street, curb and gutter repair, a tree care program, signage, street lighting, street cleaning and snow removal keep a staff of 38 busy and Wheeling looking good.

Garbage and trash collection is contracted out to Waste Management, and each household benefits from that firm's expanded program for waste disposal and recycling. Another facet of recycling - undertaken jointly by the Village, Waste Management and the Salvation Army - enables households to donate usable clothing, furniture and appliances to the needy in once-a-month curbside pickups.

Join 30,400 other people who feel good about their village. Knowing what's right for Wheeling guides our government, fuels our excellent educational system, creates a cooperative business climate, and keeps our population busy and happy. Small wonder we stand tall - for five years a Tree City USA, for nine years an Illinois Certified City, and for much longer than that, a leader in economic growth in the northwest suburbs.





Wheeling Village Administration





Wheeling.com winner of the Chamber of Commerce
"Business of the year" award!
Home | Back | Guestbook | Retail Property | Businesses | Events
Election 97 | Chamber of Commerce | Neighborhoods | Wheeling Links
Local News | Cool Links and Free Stuff | Comments | Volunteers
---
This site created and maintained by:
Byte Me! Computer Sales and Service, Inc.